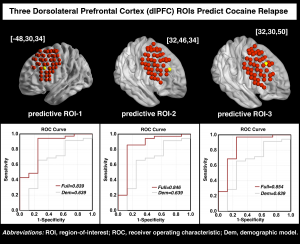 Featured Paper of the Month – November 2021
Published in Brain Communications by Tianye Zhai  and Yihong Yang et al. in the NIDA IRP Magnetic Resonance Imaging and Spectroscopy Section.
Summary
Cocaine use disorder is a highly relapsing chronic brain disease with current treatments relatively ineffective. Finding brain areas and brain functional circuits that are relevant to cocaine relapse is crucial in understanding the brain mechanisms of addiction as well as in developing effective treatment protocols. By combining the resting-state fMRI and the Cox regression based predictive modeling, Zhai et al. identified three sets of dorsolateral prefrontal cortex (dlPFC)-centric functional circuits that predict cocaine relapse with high accuracy, provide insights into the multiple roles ofthe dlPFC in brain functioning that affect treatment outcome, and suggest these dlPFC loci as potential neuromodulation targets for addiction treatment.
Publication Information