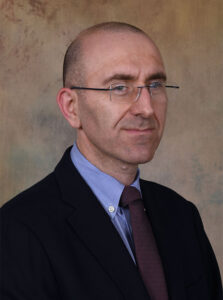 Clinical Director: Lorenzo Leggio, M.D., Ph.D.
Deputy Clinical Director: Lisa A. Farinelli, Ph.D., M.B.A., R.N., CCRP, OHCC
Administrative Assistant: Mitchele Williams
Address:
Office of the Clinical Director
Biomedical Research Center
251 Bayview Blvd.,
Suite 200, Room 02A642
Baltimore, MD 21224
Email: lorenzo.leggio@nih.gov
NIDA Office of the Clinical Director Phone: 443-740-2360
NIDA Nurses Station Phone: 443-740-2294
NIDA Patient Representative Phone: 443-740-2393
Welcome from the Clinical Director
Thank you for visiting the webpage of the Office of the Clinical Director (OCD) of the National Institute on Drug Abuse Intramural Research Program (NIDA IRP). The OCD coordinates, supports, and supervises the development, implementation and conduct of intramural clinical research activities. The OCD provides the infrastructure needed to promote top quality clinical research and to ensure research participant safety and confidentiality.
We strive to conduct cutting-edge clinical science that spans the spectrum of translational research in the addiction field. Clinical studies at the NIDA IRP cover a wide range of topics, including natural history, observational, deep phenotyping, neuroimaging and neuromodulation studies, as well as studies testing new medications or behavioral interventions, and research focused on shedding light on the neurobiology of addiction. We build, foster, and support collaborative efforts among multiple independent investigators across the NIDA IRP and the NIH IRP.
We also host the monthly NIDA IRP Addiction Grand Rounds (AGR) and are highly committed to mentor and train the next generations of physician-scientists, clinical scientists, and researchers at large in biomedical research. We strive to improve the diversity of our workplace by promoting and sustaining a culture of diversity, equity, inclusion, and accessibility.
At NIDA, we recognize that clinical studies are the cornerstone to advance our understanding of addiction and develop effective treatments. People who generously decide to participate to our clinical research studies play a pivotal role in shaping the future of addiction science toward improving the lives of people with alcohol and substance use disorders. Research participants are the crux of our clinical studies, volunteering their time and effort to help us explore the underlying mechanisms of addiction, and investigate potential new therapies. We are committed to maintaining the highest ethical standards that ensure participant safety remains at the forefront of our rigorous research efforts.
The independent clinical investigators include:
NIDA IRP OCD Gallery
Clinical Research Studies
If you want to learn more about the current clinical research studies conducted at the NIDA IRP (Bayview, Baltimore, MD), click here.
Community Outreach
The NIDA IRP OCD launched a Community Engagement Initiative in 2022. New coalitions, networks, and creative venues are being developed to share knowledge and information between NIDA scientists, trainees, and key stakeholders in the community. The goals of this collaborative effort are to promote health equity through evidence-based research, enhance research, recruitment, and retention practice to be more inclusive and accessible toward developing personalized alcohol and substance use disorder treatments and to promote increased diversity among future scientists in the field of addiction.
Clinical Electives Program: Translational Addiction Research
In partnership with the NIH Office of Clinical Research Training and Medical Education, we offer qualified students a 4-8 week clinical research elective in Translational Addiction Research. Click here to visit the Clinical Electives Program page and learn more.
Addiction Grand Rounds (AGR)
The Addiction Grand Rounds (AGR) is a once monthly series facilitated by the Office of the Clinical Director (OCD). These meetings typically take place on the first Thursday of each month from 1pm-2pm. Following each presentation, the speaker will facilitate a discussion with trainees only, from 2pm-3pm . These meetings are offered in a hybrid format and take place at the NIDA IRP Biomedical Research Center (BRC). Speakers include a variety of clinicians and clinical scientists, working with alcohol and substance use disorders as well as those working in mental health and clinical neuroscience in general. Click here to view a calendar of upcoming seminars.