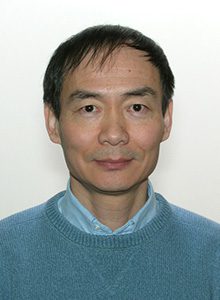 Contact
251 Bayview Boulevard
Suite 200
Room 7A709
Baltimore, MD 21224
Phone: 443-740-2648
Fax: 443-740-2734
Education
Post-doctoral Training - Functional MRI, Laboratory of Diagnostic Radiology Research, Clinical Center, National Institutes of Health
Ph.D. - Biophysics, University of Illinois at Urbana-Champaign, Urbana; Advisor: Dr. Paul C. Lauterbur
Background
Dr. Yang received his Ph.D. degree in Biophysics from the University of Illinois at Urbana-Champaign in 1995. His training was on the magnetic resonance imaging and spectroscopy and their applications in biology and medicine. He was a Postdoctoral Fellow in the Laboratory of Diagnostic Radiology Research, Clinical Center, National Institutes of Health from 1995 to 1998. He was then an Assistant Professor at the Department of Psychiatry, Weill Medical College of Cornell University from 1998 to 2002. He became an Investigator and Chief of MRI Physics at the National Institute on Drug Abuse in 2002, and then a Senior Investigator and Chief of MR Imaging and Spectroscopy Section in 2007. He served as the Acting Chief of the Neuroimaging Research Branch from July 2021 to June 2022, and became the Chief of the Neuroimaging Research Branch in June 2022.
Research Interests
Dr. Yang's research has been conducted in the following aspects:
Developing advanced neuroimaging and neuromodulation approaches, and assessing physiological basis of functional MRI (fMRI) and modulatory effect of transcranial magnetic stimulation (TMS);
Investigating system-level biomarkers that underlie aberrant behaviors of substance use disorder (SUD) and predict treatment outcome of SUD;
Investigating neuroadaptations in translational preclinical models of psychiatric and neurological disorders.
We have been developing MR imaging and spectroscopy (MRI & MRS) techniques to assess brain structure and function. Functional MRI (fMRI) techniques, including new acquisition and analysis strategies, have been developed to measure evoked and intrinsic brain activity. Diffusion tensor imaging (DTI) and "beyond DTI" techniques have been developed to examine microstructure of white matter and delineate fiber bundles in the brain. MRS techniques have been developed to measure metabolite and neurotransmitter (such as glutamate and GABA) concentrations in the brain. We recently started developing transcranial magnetic stimulator that can be used for focal stimulation of the rodent brain. We are also assessing modulatory effects of TMS on the human brain using concurrent MRI and TMS.
We have been investigating neurobiological mechanisms of SUD using neuroimaging and neuromodulation approaches. Altered brain circuits and networks have been found in cocaine users and cigarette smokers. For example, using resting-state functional connectivity (rsFC), we observed increased rsFC in an orbital frontal cortex (OFC) – striatal circuit (called "go" circuit), while decreased rsFC in a dorsal anterior cingulate (dACC) – striatal connectivity circuit (called "stop" circuit) in cocaine users compared with healthy controls. We further demonstrated that compulsive cocaine use, a defining characteristic of dependence, was associated with a balance between the "go" and "stop" circuits, measured as the difference in rsFC between the two circuits (Hu et al., JAMA Psychiatry, 2015). We have also been identifying brain circuits that are predictive of therapeutic treatment of SUD. For example, using a multimodal imaging method, we found that rsFC between the right temporal pole and medial prefrontal cortex, combined with years of education, predicted cocaine relapse status at 150 days with an accuracy of 88% (Geng et al., Brain, 2017).
We have been investigating altered brain circuits in preclinical models of SUD. For example, using a rat model of drug self-administration (SA) in the presence of concomitant foot shocks, we found that rats were divided into shock-resistant (SR) and shock-sensitive (SS) subgroups. Longitudinal imaging data showed alterations in the balance between an increased OFC-dorsomedial striatal "go" circuit rsFC and a decreased PrL-ventrolateral striatal "stop" circuit rsFC, after SA and foot shot. Critically, the compulsive SA behavior was correlated with the ["go" (-) "stop"] circuit balance only in SR rats who continue to self-administer despite receiving foot shocks (Hu et al., PNAS, 2019).
Publications
Selected Publications