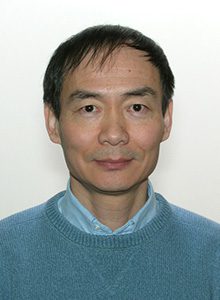 Contact
251 Bayview Boulevard
Suite 200
Room 7A709
Baltimore, MD 21224
Phone: 667-312-5364
Education
Post-doctoral Training - Functional MRI, Laboratory of Diagnostic Radiology Research, Clinical Center, National Institutes of Health
Ph.D. - Biophysics, University of Illinois at Urbana-Champaign, Urbana; Advisor: Dr. Paul C. Lauterbur
Research Interests
Dr. Yang's research has been conducted in the following aspects:
Developing advanced neuroimaging and neuromodulation approaches for assessing brain functions in preclinical models and humans
Investigating neurobiological mechanisms and neuro-modulatory strategies of addiction behaviors in preclinical models
Identifying system-level neural mechanisms and neuromodulation-based therapeutic targets of substance use disorder (SUD)
We developed magnetic resonance imaging and spectroscopy techniques to assess brain activity, white matter integrity, and neurochemical levels. Using resting-state functional MRI, we identified a default-mode network (Lu et al., 2012) and a salience network (Tsai et al., 2020) in the rat brain. More recently, we developed focal transcranial magnetic stimulation (TMS) for translational studies in rodents (Meng et al., 2018) and proposed a novel high-density theta burst stimulation paradigm for enhancing treatment efficacy (Meng et al., 2022). Using a concurrent TMS and MRI setup in clinical studies, we assessed online modulatory effects of TMS on different locations of the human brain (Caparelli, et al., 2022).
We identified altered brain circuits and their association with addiction-like behaviors in preclinical models of SUD. Based on the neuroimaging findings, optimal modulation of these circuits is under investigation. For example, using a rat model of drug self-administration in the presence of concomitant footshock, we found that functional connectivity of a frontal-habenula-midbrain circuit in rats resistant or sensitive to footshock was differentially associated with compulsive drug taking (Duan et al., 2022). The finding suggests that individual differences in the brain circuit underlie addiction phenotypes and may serve as a target for individualized treatment.
We assessed maladaptation of brain circuits and networks in individuals with SUD. For example, we recently demonstrated that dynamic interactions between brain networks are disrupted in cocaine users and are associated with cocaine dependence severity (Zhai et al., 2022). We also identified brain regions with their functional connectivity predicting treatment outcomes (Zhai et al., 2021). One of the identified brain regions has been used as a target in an ongoing clinical trial of TMS treatment of cocaine use disorder.
Publications
Selected Publications