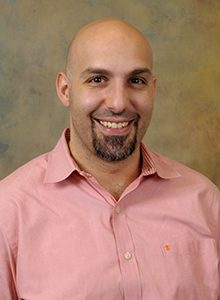 Contact
Biomedical Research Center
251 Bayview Boulevard
Baltimore, MD 21224
Phone: 667-312-5380
Email: mike.michaelides@nih.gov
Education
Post-doctoral Training – Icahn School of Medicine at Mount Sinai, New York, NY; Advisors: Yasmin L. Hurd, Ph.D. (primary), Gene Jack Wang, M.D. (secondary).
Ph.D. – Integrative Neuroscience (Biopsychology), Stony Brook University, Stony Brook, NY
Background
I was born in Kavala, a small coastal town in Greece. My family moved to Queens, NY when I was 3 years old and then back to Kavala when I was 10. After high-school I moved back to NY for undergraduate studies at Stony Brook University (SBU) where I studied Economics and Mathematics. A summer research fellowship in my junior year exposed me to behavioral pharmacology and molecular imaging research and this experience led me to pursue a PhD in Integrative Neuroscience at SBU. My doctoral research was carried out at Brookhaven National Laboratory in Dr. Nora Volkow's Laboratory of Neuroimaging. After this, I moved to the Icahn School of Medicine at Mount Sinai where I spent 5 years in Dr. Yasmin Hurd's Molecular Neuropsychopharmacology laboratory. During this time I also co-founded Metis Laboratories. I moved to Baltimore in the summer of 2015 to establish the BIMN lab at the NIDA IRP where I am currently a Tenure-track Investigator with an adjunct Assistant Professor appointment in the Psychiatry Department at the Johns Hopkins School of Medicine.
Research Interests
Our laboratory implements state-of-the-art biobehavioral molecular imaging approaches integrated alongside cutting-edge neuromodulatory, molecular, pharmacological, transgenic, and bioinformatic methods for identifying behaviorally-relevant neurobiological mechanisms critical for substance abuse and addiction. Special emphasis is placed on reverse-translating findings from clinical research to animals. In addition, clinical relevance of mechanisms studied in animals is determined in humans via imaging, bioinformatics, genetics and postmortem tissue examinations.
Development and application of "biobehavioral imaging" methods and technologies: state-of-the-art imaging paradigms to interrogate systems- and cellular-level molecular neurobiology in freely-moving animals
Development and application of novel molecular imaging methodologies integrating neuromodulatory technologies and positron emission tomography (PET)
To investigate the involvement of essential metals (e.g. zinc, iron, copper) on brain neurobiological mechanisms relevant to substance abuse and addiction vulnerability
To investigate interactions between peripheral and brain energy metabolic mechanisms in regulating reinforcement and behaviors relevant to substance abuse and addiction vulnerability
Publications
Selected Publications
2023
2022
2020
2019
2017
2015
2013
2012
2010