The IRP's Diversity and Outreach Committee (DOC) represented the NIDA IRP again at the Baltimore Science Fair held at Towson University over the weekend of March 23rd and 24th. Over 100 middle school and high school students from Baltimore City, Baltimore, Carrol, Cecil, Harford, and Howard Counties participated, spending many hours on Saturday describing their work to a lot of judges. Judges came from all over, including FDA, other NIH institutes, US Army, US Coast Guard, US Air Force, NSA, and Johns Hopkins.
With tremendous gratitude to all the staff that generously donated to our efforts, we were able to give out prizes to 9 impressive young scientists. One of our winners was a past summer student here, returning again this summer!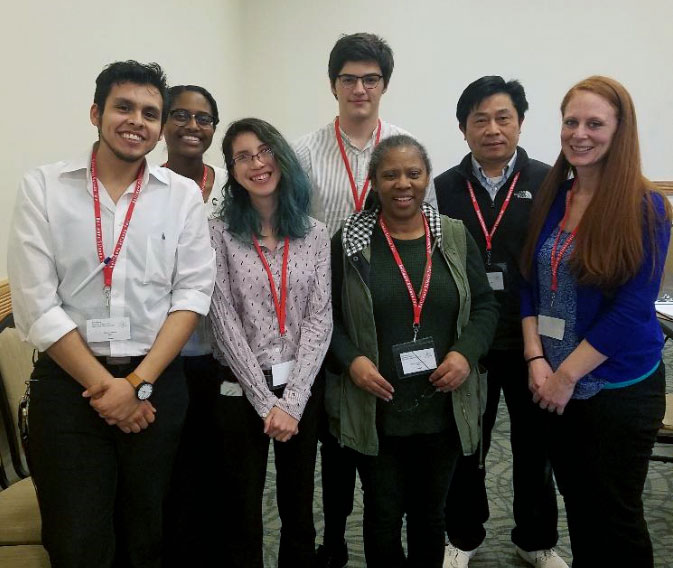 Joining DOC Chair Michelle Jobes, PhD as judges this year was a wonderful group that included several DOC Scientific Director's Fellowship for Diversity in Research (SDFDR) Fellows:
Miguel Arenivar (SDFDR Fellow, postbac in the Aponte lab)

Francisco Battiti (SDFDR Fellow, postbac in the Newman lab)

Brenton Laing, PhD (postdoc in the Aponte lab)

Kathy Lightfoot, PA-C

Hanbing Lu, PhD

Adrianna Hayden (postbac in the Aponte Lab)

Adam Moreno-Mendelson (SDFDR Fellow, postbac in the Epstein lab)

Maria Ortiz (SDFDR Fellow, postbac in the Synaptic Plasticity lab)

Leslie Premo, MPP, MS

Michelle Jobes, PhD (Chair, Diversity and Outreach Committee)
On Saturday, the judges had a really great time meeting all the students, learning about their projects, and hearing about their future plans.
Kathy Lightfoot joined Michelle Jobes on Sunday to present the NIDA IRP awards. For more information and photos of the science fair, including the awards ceremony, please visit this link: http://www.baltimoresciencefair.org/.
For general information about the Diversity and Outreach Committee at the IRP, please visit https://irp.nida.nih.gov/diversity/.
Thank you to everyone for your support of this worthwhile event. Special thanks again to the very generous PIs and staff that made donations, allowing us to exceed our goal once again this year!