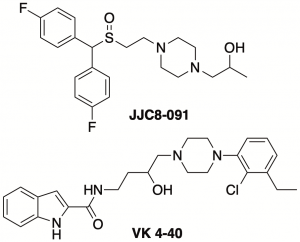 Reviews To Read – December 2021.
Published in Annual Review of Pharmacology and Toxicology by Amy Hauck Newman, et al.
The use of illicit psychostimulants, such as cocaine and methamphetamine, continues to pose significant health and societal challenges. Despite considerable efforts to develop medications to treat psychostimulant use disorders, none have proven effective, leaving an underserved patient population and unanswered questions as to what mechanism(s) of action should be targeted for developing pharmacotherapies. As both cocaine and methamphetamine rapidly increase dopamine levels in mesolimbic brain regions, leading to euphoria that in some can proceed to addiction, targets in which this increased dopaminergic tone may be mitigated have been explored. Further, understanding and targeting mechanisms underlying relapse is fundamental to the success of discovering medications that either reduce the reinforcing effects of these psychostimulants and/or decrease the negative reinforcement or withdrawal/negative affect that occurs during abstinence.  Novel atypical inhibitors of the dopamine transporter and partial agonists/antagonists at dopamine D3 receptors (D3R) are described as two promising targets for future drug development.