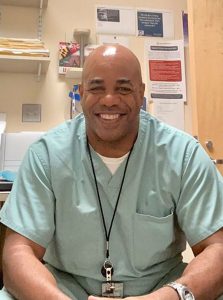 John Hubbard, MPAS, PA-C in the NIDA IRP OCD, has been awarded the 2022 Humanitarian & Service PA of the Year Award from the Maryland Academy of Physician Assistants. 
The MdAPA Humanitarian & Service Award seeks to recognize a PA who has shown incredible service to the community, providing care to the most vulnerable and underserved populations, and/or populations in crisis. This service may have been provided anywhere inside or outside of the United States, but no matter the location, there is a clear dedication to human rights and expanding access to care. 
Quoting the official award notification sent by the MdAPA to John, "We had several worthy nominees, but it stood out to the Awards Committee the amazing breadth and depth of your long service to numerous underserved communities, including the Native American population, federally incarcerated individuals for the DOJ/Bureau of prisons, socioeconomically disadvantaged residents in the inner city of Washington DC, and underserved migrant populations at the Texas/Mexican border. Also, in support of your nomination, you were praised for your teamwork and outstanding care and management of patients during contact tracing during the pandemic, your care serving patients with addiction, your volunteer work with Baltimore city residents and youth, and with the broader PA community."
Congratulations, John!