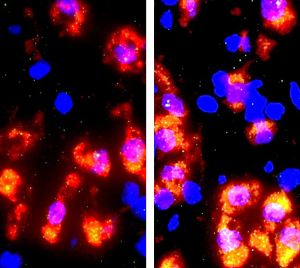 Hot Off the Press – February 7, 2022
Published in Molecular Psychiatry by Zhi-Bing You and Lorenzo Leggio et, al. at NIDA IRP.
Ghrelin, an orexigenic hormone, has recently emerged as a critical biological substrate implicated in drug reward. However, the reciprocal interactions between the endogenous ghrelin system and drug-motivated behaviors remain to be understood. With a variety of experimental approaches in this study, we find that acquisition of oxycodone-taking behaviors in rat is associated with elevations in the function of the endogenous ghrelin system as demonstrated by increased circulating ghrelin levels as a result of oxycodone-taking plus upregulated ghrelin receptor mRNA levels in dopamine neurons in the ventral tegmental area (VTA), a neuronal population critical for reward-taking. Pharmacological blockade of the ghrelin receptor decreases oxycodone-taking and incentive motivation for oxycodone-taking in rats and inhibits brain stimulation reward maintained by optogenetic stimulation of VTA dopamine neurons in mice. Our findings suggest that elevation of ghrelin signaling by oxycodone-motivated behavior is a causal process by which oxycodone motivates drug-taking, and that targeting the ghrelin system may be a viable treatment approach for opioid use disorders.
Publication Information