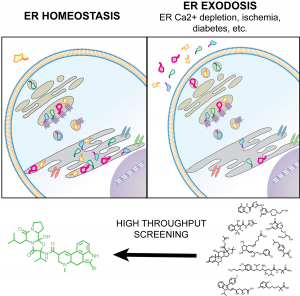 Hot Off the Press – April 30, 2021
Published in Cell Reports by  Mark Henderson and Kathleen Trychta, et al.
In the paper by Henderson et al.,  we developed a high throughput screen to identify molecules that can stabilize protein homeostasis inside of cells (brain, muscle, liver, etc) during pathological states.  The screen was based off a cellular phenomenon called "exodosis" that was discovered in my lab at the NIDA IRP.  Through collaboration with NCATS and other intramural and extramural collaborators, we identified both FDA approved drugs (e.g. bromocriptine) and novel molecules that can prevent exodosis in a variety of disease states where exodosis occurs (stroke, diabetes, Wolfram syndrome and obesity).  We have also observed exodosis in models of substance abuse where we hope to prevent acute toxicity associated with methamphetamine and MDMA overdosing.  This is part of a story that has originated at the NIDA IRP and continues to expand and move towards new therapeutics for  substance abuse and other diseases.
Publication Information