Fatumastar Adan
she/her/hers
EDUCATION
B.S. in Public Health, St. Catherine University, 2019
LAB & MENTORS
Office of the Clinical Director – Jeremiah Bertz,
Read more about Fatumastar
RESEARCH INTERESTS
Generally, I am interested in substance use disorders, neurobiology/neuroscience, health disparities, behavior, neighborhood and social stress on addiction, epidemiology, global health, sociology, and criminal justice.
My current work is focused on examining how different types of drugs impact an individual's perception of their neighborhood. This project intrigues me because it will aid us in better understanding the ways different drugs might influence how individuals perceive and interact with their environment.
HUMAN INTERESTS
Addiction and substance use disorders, sexual violence advocacy, focused interest in immigrant and underrepresented populations, long-term Impacts of mass incarceration, and public policy.
CAREER PLANS
In the future, I want to purse a dual degree in medicine and public health (MD/MPH). I want to always advocate for the most silenced and forgotten members of our society.
FAVORITE QUOTE
"Injustice anywhere is a threat to justice everywhere. We are caught in an inescapable network of mutuality, tied in a single garment of destiny. Whatever affects one directly, affects all indirectly." – Martin Luther King Jr
FOR FUN IN MY FREE TIME
Being outdoors, reading, playing games, watching movies, painting, and photography
---
Lindsay Altidor
she/her/hers
EDUCATION
B.S. Neuroscience, University of Florida, 2020
LAB & MENTORS
Neurobiology of Relapse Section – Jennifer Bossert, Yavin Shaham
Read more about Lindsay
RESEARCH INTERESTS
Behavioral neuroscience, cognitive neuroscience, proteomics, biochemistry; mechanistic and biochemical understanding of the human brain and consciousness
CAREER ASPIRATIONS/PLANS
I want to become a PI and build a multidisciplinary lab centered on mentorship, networking, and advocating/empowering young students as they go through their path in academia. Research-wise, bringing together aspects of mechanistic and biochemical methods to study the basis of behavior.
FUN FACT
I have an adventure hat I take with me whenever I encounter new feats or experiences to remind myself to make every day an adventure.
FAVORITE QUOTE
"The stars align when they align" is phrase I like to use.
FUN IN MY FREE TIME
Longboarding, hiking, flow riding, kayaking, anything active really. Oh! Also DnD, if you want to do a one-shot anytime hmu
ON BEING AN SDFDR FELLOW
Favorite part, my cohort. Lab work can be crazy sometimes (especially when you are getting started) but to have a cohort that is comfortable with each other and experiencing the same new trials with me is very grounding and feels safe.
PUBLICATIONS/ABSTRACTS/POSTERS
Altidor L, Fredriksson I, Shekara A, Korah H, Husbands S, Zaveri N, Sulima A, Rice K, Shaham Y, Bossert JM. Effect of chronic delivery of the mixed MOR/NOP agonists BU08028 and AT-201 on relapse to heroin seeking and taking in a rat model of opioid maintenance. Society for Neuroscience, 2021
---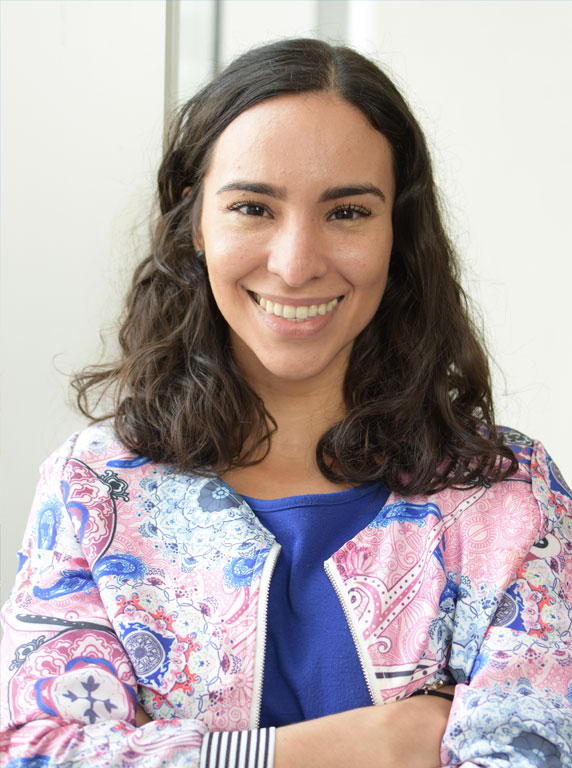 Francheska Delgado-Peraza
she/her/hers
EDUCATION
Ph.D. in Anatomy with Neuroscience Tract, University of Puerto Rico, Medical Sciences Campus, San Juan, PR, 2016
B.S. in Industrial Biotechnology, University of Puerto Rico, Mayagüez Campus, Mayagüez, PR, 2011
LAB & MENTORS
Laboratory of Clinical Investigation (LCI), National Institute on Aging (NIA) – Dimitrios Kapogiannis, M.D.
Read more about Francheska
OTHER MENTORS
Michelle Jobes, Christie Brannock, Michele Evans, Josephine Egan, Yeka Aponte, Carlos Nogueras-Ortiz, Maja Mustapic, Jacqueline Flores-Otero, Guillermo Yudowski
RESEARCH INTERESTS
Our group at NIA has pioneered the development of methods for isolating extracellular vesicles enriched for neuronal and astrocytic origin from peripheral blood and has utilized them as a source of biomarkers for Alzheimer's disease. My current work demonstrates strong correlations of Alzheimer's disease pathogenic proteins in extracellular vesicles and brain tissues suggesting that extracellular vesicles may be used to precisely characterize individual patients for multiple pathologies, contributing to the development of Precision Medicine. These findings are novel and constitute a powerful validation of circulating extracellular vesicles as liquid biopsy biomarkers for Alzheimer's disease. My research interests include to continue interrogating the molecular cargo of extracellular vesicles as they may offer a window into the brain and help us identify novel therapeutic targets and reveal critical times for therapeutic intervention in Alzheimer's disease and potentially in other brain pathologies.
HUMAN INTERESTS
Wellness advocate; Diversity advocate
CAREER PLANS
I aspire to obtain an academic career as researcher and professor in Puerto Rico, as my ultimate goal is to share the scientific skill set and work ethics I have acquired with this and future generations of scientists, especially those from underrepresented backgrounds that have had less opportunities and potentially faced more obstacles.
FUN FACTS
I belonged to a dog rescue group in Puerto Rico, in which we rescued abandoned dogs from the streets and took care of them until their condition improved and then send them to the US for adoption. I kept 4 of these dogs and traveled to Maryland with them.
I can back squat 2.13x my body weight.
I have 2 middle names: Mariet and Renee; and my last names are hyphenated to avoid confusion because they are actually 2, as it is Puerto Rico's tradition to carry your mother's last name as well, so my current actual full name is Francheska Mariet Renee Delgado Peraza. Furthermore, is also our tradition that at marriage, you don't only take your husband's last name (which are 2 if he is Puerto Rican), you add it to yours, so one day I may officially have 3 names and 4 last names.
FAVORITE QUOTE
"Research is to see what everybody else has seen, and to think what nobody else has thought." – Albert Szent-Györgyi
"The reward of the young scientist is the emotional thrill of being the first person in the history of the world to see something or to understand something. Nothing can compare with that experience." – Cecilia Payne-Gaposchkin
"If I have seen further it is by standing on the shoulders of giants." – Isaac Newton
FOR FUN IN MY FREE TIME
Crossfit; Dance; Yoga; Member of the NIA Wellness Advisory Committee Be Well at Work
ON BEING AN SDFDR FELLOW
My favorite part of being an SDFDR Fellow is to feel that I belong and that I can do it. This Program is valuable not only for the scientific environment and the skill sets it offers, but also for the mentoring and the genuine camaraderie within. I have found a family in science in the other Fellows and in the Program's personnel, including the Director and the Coordinator. They all are more than supportive, enthusiastic and reliable, and even more so during difficult times.
PUBLICATIONS
Lee Y, Mansur RB, Brietzke E, Kapogiannis D, Delgado-Peraza F, Boutilier J, Chan T, Carmona N, Lee J, Maletic V, Vinberg M, Suppes T, Goldstein B, Ravindran A, Taylor V, Chawla S, Nogueras-Ortiz C, Cosgrove V, Kramer N, Ho RCM, Raison C, and McIntyre RS. Peripheral inflammatory biomarkers define biotypes of bipolar depression. Molecular Psychiatry. Accepted for publication.
Nogueras-Ortiz CJ, Mahairaki V, Delgado-Peraza F, Das D, Avgerinos K, Eren E, Hentschel M, Goetzl EJ, Mattson MP, Kapogiannis D. Astrocyte- and Neuron-Derived Extracellular Vesicles from Alzheimer's Disease Patients Effect Complement-Mediated Neurotoxicity. Cells. 2020 Jul 4;9(7):1618. doi: 10.3390/cells9071618. PMID: 32635578; PMCID: PMC7407141.
Delgado-Peraza F, Mansur RB, Subramaniapillai M, Lee Y, Iacobucci M, Rodrigues N, Rosenblat JD, Brietzke E, Cosgrove VE, Kramer NE, Suppes T, Raison CL, Chawla S, Nogueras-Ortiz C, McIntyre RS, Kapogiannis D. Extracellular Vesicle Biomarkers Reveal Inhibition of Neuroinflammation by Infliximab in Association with Antidepressant Response in Adults with Bipolar Depression. Cells. 2020 Apr 6;9(4):895. doi: 10.3390/cells9040895. PMID: 32268604; PMCID: PMC7226726.
Bhargava P, Nogueras-Ortiz C, Kim S, Delgado-Peraza F, Calabresi PA, Kapogiannis D. Synaptic and complement markers in extracellular vesicles in multiple sclerosis. Mult Scler. 2020 Jun 17:1352458520924590. doi: 10.1177/1352458520924590. Epub ahead of print. PMID: 32669030; PMCID: PMC7744427.
Delgado-Peraza F, Mansur RB, Subramaniapillai M, Lee Y, Iacobucci M, Nasri F, Rodrigues N, Rosenblat JD, Brietzke E, Cosgrove VE, Kramer NE, Suppes T, Raison CL, Fagiolini A, Rasgon N, Chawla S, Nogueras-Ortiz C, Kapogiannis D, McIntyre RS. Exploring brain insulin resistance in adults with bipolar depression using extracellular vesicles of neuronal origin. J Psychiatr Res. 2021 Jan;133:82-92. doi: 10.1016/j.jpsychires.2020.12.007. Epub 2020 Dec 4. PMID: 33316649; PMCID: PMC7855678.
Roman-Vendrell C, Chevalier M, Acevedo-Canabal AM, Delgado-Peraza F, Flores-Otero J, Yudowski GA. Imaging of kiss-and-run exocytosis of surface receptors in neuronal cultures. Front Cell Neurosci. 2014 Nov 3;8:363. doi: 10.3389/fncel.2014.00363. PMID: 25404895; PMCID: PMC4217495.
Delgado-Peraza F, Ahn KH, Nogueras-Ortiz C, Mungrue IN, Mackie K, Kendall DA, Yudowski GA. Mechanisms of Biased β-Arrestin-Mediated Signaling Downstream from the Cannabinoid 1 Receptor. Mol Pharmacol. 2016 Jun;89(6):618-29. doi: 10.1124/mol.115.103176. Epub 2016 Mar 23. Erratum in: Mol Pharmacol. 2016 Jul;90(1):62. PMID: 27009233; PMCID: PMC4885504.
Flores-Otero J, Ahn KH, Delgado-Peraza F, Mackie K, Kendall DA, Yudowski GA. Ligand-specific endocytic dwell times control functional selectivity of the cannabinoid receptor 1. Nat Commun. 2014 Aug 1;5:4589. doi: 10.1038/ncomms5589. PMID: 25081814; PMCID: PMC4227836.
Delgado-Peraza F, Nogueras-Ortiz C, Acevedo Canabal AM, Roman-Vendrell C, Yudowski GA. Imaging GPCRs trafficking and signaling with total internal reflection fluorescence microscopy in cultured neurons. Methods Cell Biol. 2016;132:25-33. doi: 10.1016/bs.mcb.2015.10.002. Epub 2015 Dec 24. PMID: 26928537; PMCID: PMC5421379.
---
Olivia Drake
she/her/hers
EDUCATION
B.S. Neuroscience, Juniata College, 2020
LAB & MENTORS
Neuronal Ensembles in Drug Addiction Section – Rajtarun Madangopal, Bruce Hope
Read more about Olivia
RESEARCH INTERESTS
Behavioral and neurological substrates underlying reward seeking
The role of discriminative stimuli in drug seeking and taking
HUMAN INTERESTS
Mentoring low-income/first-generation college students
LGBTQ+ advocacy
Promoting diversity in biomedical sciences
CAREER PLANS 
I plan to obtain an M.D./Ph.D. in neuroscience, and I hope to focus either on the neural networks involved in drug addiction or on treatment targets and drug development for psychiatric illnesses. I hope to serve my community as a clinical researcher as well as a mentor and role model for students from disadvantaged backgrounds.
FUN FACTS
I can recite 100 digits of pi, and I was voted class clown in high school.
FAV QUOTE
"It matters not what someone is born but what they grow to be." – Albus Dumbledore
FOR FUN IN MY FREE TIME
Creating art, reading, volunteering, boardgames, hiking
ON BEING AN SDFDR FELLOW
I can share my experiences and listen to like-minded individuals about their unique journeys. It has been an incredible source of support, and I have received advice about goals, time-management, communication, and professional development from people at different points in their careers.
---
Maria Fernanda Holloman
she/her/hers
EDUCATION
B.S. Biochemistry, Albright College, 2020
LAB & MENTORS
Neuronal Ensembles in Drug Addiction Section – Leslie Ramsey, Ph.D., Bruce Hope, Ph.D.
Read more about Maria
RESEARCH INTERESTS
I am currently working on social self-administration operant model in female CD1 and C57 mice. Currently, my research interests include natural rewards such as social interaction vs drugs of abuse. I have different research interests that I would like to explore when I get further into my career. I would like to explore autoimmune diseases like Lupus and other diseases like obesity/diabetes.
HUMAN INTERESTS
I am trying to dive into more activism in health care disparities/ health education and also racial disparities. I have been passionate about animal welfare which I hope to be able to contribute by becoming a foster cat mom when I have my own home.
CAREER PLANS
I am still trying to figure out what to do in my career. I am exploring different master's and PhD programs as well as a medical laboratory science program.
FUN FACTS
I am left-handed & I wrestled in high school
FOR FUN IN MY FREE TIME
I like to craft, read, watch Netflix and play video games
ON BEING AN SDFDR FELLOW
I love being an SDFDR fellow because we have created a small family where we support and encourage each other. I have also learned a lot about becoming a better scientist and a professional. A huge reason why I wanted to be part of this program was because it was a way to connect with fellow colleagues with similar backgrounds.
PUBLICATIONS/ABSTRACTS/POSTERS
2021 SfN Global Connectome- Poster Presentations
IN THE NIDA/NIH COMMUNITY
I am part of the Post-bac Advisory Committee at NIDA and help with creating the monthly newsletter. I am also one of the Baltimore representatives for the NIH SACNAS chapter.
---
Sadé Orejobi
she/her/hers
EDUCATION
B.S. Psychology & Spanish, University of Miami, 2020
LAB & MENTORS
Neural Engineering Unit – Craig Werner, Phd., Da-Ting Lin, Ph.D.
Read more about Sadé
OTHER MENTORS Michelle Jobes & Christie Brannock
RESEARCH INTERESTS
I work under the mentorship of Drs. Da-Ting Lin & Craig Werner to investigate the role of nucleus accumbens dopamine receptors D1 and D2 in the encoding of reward and punishment in addiction. By using the innovative miniScope technology to record the activity of these neural circuits in real time, we hope to better understand how drug-related behaviors are encoded in the nucleus accumbens microcircuitry.
HUMAN INTERESTS
Addiction research is important to me because I see how bias and stigma prevent people with addiction from accessing evidence-based care, and I also see how scientists are being left out of the policymaking process. In my career, I hope to continue conducting research that contributes to the understanding of addiction as a chronic illness and investigating the causes and effects of other stigmatized public health issues. Ultimately, I believe that it is not only the duty of health professionals to advocate for the health of their patients, but it is also our duty as humans to continuously question how we contribute to the marginalization of others and actively take steps to create a society that is safe and better for everyone.
CAREER PLANS
I will be attending medical school this fall! Potential specialties I'm interested in are anesthesiology, psychiatry, and neurology. Wherever I end up, I'm sure addiction science will be an important part of my career. My career goal is to work on policies that create tangible change to address health disparities and protect vulnerable populations. I am particularly interested in ethnic minorities and immigrant populations, individuals diagnosed with substance use and other mental illnesses, and those below the poverty line as vulnerable populations.
FAV QUOTE
"I'm a woman, phenomenally. Phenomenal woman, that's me." –Maya Angelou
FOR FUN IN MY FREE TIME
I love meeting people from all over the world and learning new things! I have visited about 15 foreign countries and would love to work internationally. Some places that I'm hoping to travel to next are Spain, Costa Rica, Sweden, and back to Mexico because I love it so much! In my free time I like to cook, draw, paint, and binge on true crime documentaries!
ON BEING AN SDFDR FELLOW
Being an SDFDR has allowed me to uphold my values of diversity, equity, and inclusion in science and medicine communities. Experiences like these are important to me because of my career aspiration to someday share my experiences and provide guidance to the next generation of young scientists and physicians. Additionally, it's been a great opportunity to connect with other postbacs while being socially distanced.
PUBLICATIONS/ABSTRACTS/POSTERS
Orejobi S, Marshall B, Powell T & Johnson RM. Old-for-grade status and risk for adolescent risk behaviors: Secondary analysis of data from the 2016 Maryland Youth Risk Behavior Survey (MD-YRBS). Journal of Adolescent Health. Feb 2020, Volume 66, Issue 2, S146.
Orejobi S, Marshall B, Powell T, Johnson RM. Old-for-grade status and risk for adolescent risk behaviors. Virtual poster presentation at the Society for Adolescent Health and Medicine Annual Meeting. San Diego, CA; March 6-9, 2020.
Orejobi S, Johnson RM. Age differences in grade level among Hispanic/Latino high school students: estimating prevalence of risk behaviors. Poster presentation at Johns Hopkins CARES Symposium. Baltimore, MD; July 25, 2019.
Orejobi S, Marwede H, Ekwenchi C, Miara M. Effect of Cu2O Nanoparticle Degradants on C. elegans Poster presentation at the Howard Hughes Medical Institute Authentic Research Lab Poster Session. Coral Gables, FL; April 27, 2017.
Ekwenchi C, Orejobi S, Rasco K, Giraldo A. Effect of Pyrethrins as Natural Product Pesticide Against D. melanogaster and D. rerio. Poster presentation at the Howard Hughes Medical Institute Authentic Research Lab Poster Session. Coral Gables, FL; Dec 13, 2016.
---
Jesse Torija
he/him/his
EDUCATION
M.S. Bioengineering, Technische Universität München (TUM), Expected 2023

B.S. Chemistry, University of California Los Angeles (UCLA), 2017
LAB & MENTORS
Neuronal Networks Section – Hui-ling Wang, Ph.D., Marisela Morales, Ph.D.
Other Mentors: , Zach Brodnik, David Reiner, Flavia Barbano, Carlos Mejias-Aponte, Michelle Jobes, Christie Brannock, Yeka Aponte
Read more about Jesse
RESEARCH INTERESTS
We know that the ventral tegmental Area (VTA) plays an essential role in both positive and negative reinforcement behavior and that the parabrachial nucleus (PBN) is involved in aversion. It has also been shown that the PBN projects to the VTA but how these connections play a role in reinforcement and aversion processes is unclear. Therefore, my current project involves using optogenetics, chemogenetics, and calcium imaging to define the role of this PBN-to-VTA pathway in aversion.
I'm interested in using the properties of light to image neurons. Specifically, by using calcium imaging with fiber photometry or two photon spectroscopy during behavior, I aim to characterize neuronal activity in the context of behavior. Combining my computation background in mass data analysis with the skills I have acquired at NIDA, in the future, I intend to investigate neuronal properties in songbirds, as model of vocal learning, after social defeat as a model of stress.
HUMAN INTERESTS
Growing up in Los Angeles, CA I firsthand saw the hypocrisy of our society. On one hand, we preach diversity and inclusion, but on the other, our actions show otherwise. Behind the glamour of Los Angeles, and many other cities, my community still struggles for basic American rights. Whether it's storms, the pandemic, or terrorist attacks, Latinos are often there to provide essential services, but these unrecognized heroes don't have the right to paid sick leave or paid vacations. We simply have to look close to home to our gardeners, nannies, and other domestic workers and see that we do not give them the same rights we expect for ourselves. It is because we do not see them the as equals, but beneath us. I have the privilege of being in a position where my voice and opinion is valued and heard. I advocate for the underprivileged because I know their pain. Too many second-generation Latinos like myself know this story well because they are our parents and while we cannot change their experience, we can change the way they are seen and treated. Through this, I hope that one day we can stop "The twisted inversion that many children of immigrants know is that, at some point, your parents become your children, and your own personal American dream becomes making sure they age and die with dignity in a country that has never wanted them."
― Karla Cornejo Villavicencio
CAREER PLANS
My career aspiration is to become a Ph.D. candidate in NYC. Just as my undergraduate mentor and PI gave me an opportunity and nourished my scientific curiosity, I plan to train the next generation of underrepresented scientists. As for my plans after graduate school, I believe that somethings are for me to know only.
FUN FACTS
Everyone likes to tell me what I should or shouldn't do but if I had listened to them, I wouldn't be where I am today. Honestly, sometimes I have no idea what I am doing and sometimes the path is longer than I expected but I would never change anything about it because I've had one hella an adventure. Fun fact is I learned German in my adventures!
FAVORITE QUOTES
"I am who I am because I know who I am, and I refuse to ever let anyone ever tell me otherwise"– Elektra Abundance Evangelista
"Science progresses one funeral at a time" – Max Planck
"To be nobody but myself — in a world which is doing its best, night and day, to make me somebody else — means to fight the hardest battle any human can fight, and never stop fighting." – e.e. cummings
IN THE NIDA/NIH COMMUNITY
Board Counsel – NIH SACNAS
Member – NIDA IRP IDEA
---