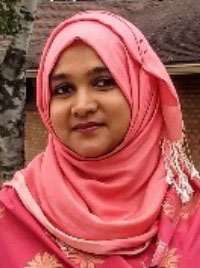 Education
Ph.D. – Organic Chemistry, University of Wisconsin-Milwaukee
M.S. – Organic Chemistry, University of Dhaka, Bangladesh
B.S. – Chemistry, University of Dhaka, Bangladesh
Research Interests
Khorshada Jahan completed her dissertation under the guidance of Prof. M Mahmun Hossain at the University of Wisconsin-Milwaukee. While a graduate student there, she developed a method to synthesize natural products Tryprosatin A and B (a potential anti-cancer agent) and its analogs in only four steps. Looking to cultivate her interest in design and synthesize new compounds and methods, Khorshada joined the Medicinal Chemistry Section in NIDA in 2022, guided by Dr. Amy H. Newman. Since then, she has been working on various research projects related to the design and synthesis of ligands that can effectively bind to both dopamine D3 and mu opioid receptors that may provide new leads for opioid analgesics with lower addictive liability. She is also working on novel fluorescent ligands directed toward mu opioid receptors.
Selected Publications
2021
2019
2018
2017
2016
2015
2013
An efficient synthesis of chromene derivatives through a tandem michael addition-cyclization reaction. Journal Article
In: J. Bangladesh Chem. Soc., vol. 26, pp. 75–82, 2013.
2011