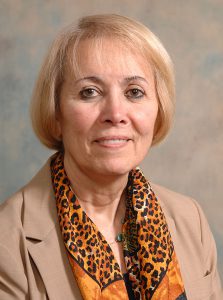 Contact
Triad Technology Center
333 Cassell Drive
Room 1120
Baltimore, MD 21224
Phone: 443-740-2747
Fax: 443-740-2144
Education
Post-doctoral training - Oncology Immunology, Johns Hopkins School of Medicine (advisor Elizabeth Jaffee)
Ph. D. - Pharmacology and Molecular Sciences, Johns Hopkins School of Medicine
M.S.. - Pathology, University of Maryland Medical School
B.S. - Chemistry, Loyola College
Research Interests
Functional proteomics has allowed us to formulate a comprehensive understanding of receptors' structure, a mechanism for the macromolecular basis of receptor heteromerization and define heteromers formation (e.g. Adenosine A2A-Dopamine D2, Cannabinoid CB1-Dopamine D2 and NMDA NR1-Dopamine D1) at the molecular level.   Through the study of noncovalent interactions, we have also elucidated the mechanism of NMDA mediated dynorphin neurotoxicity and designed a decoy peptide that takes into account the structure of its target.
We are mapping and imaging the brain's and other organs lipidome (glycolipids, cerebrosides, sphingomyelin, gangliosides and cardiolipins) and proteome in health and in pathological conditions such as blast induced traumatic brain injury, as well as mapping and imaging the anatomical distribution and localization of drugs of abuse in the addicted brain.
We are investigating the lipidome and proteome of leucocytes from controls and drug addicted rats to find biomarkers for addiction and ones that would reflect the progressive changes that occur during the development of addiction, which would allow the determination of the status of an addicted individual with as little as one milliliter of blood.
We are also developing and enhancing Ion-Mobility MALDI MS instrumentation and applications, with the ultimate goal of cellular imaging.
We consider protein modeling and bioinformatics of all biological molecules and the possible drugs and compounds that interact with them to be important tools in understanding and designing therapeutic compounds to help alleviate or cure addiction.
Although we seem to cast a large net, all of our work involves biomolecules that are important in understanding the biology of addiction.
Awards -2011 NIDA Investigator recipient of "Woman Scientist Achievement Award"
Publications
Selected Publications