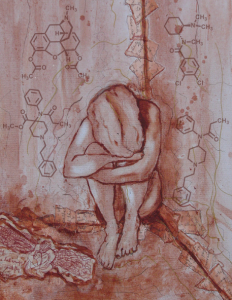 The origins of the current opioid crisis are complex, and effective solutions will require multidisciplinary cooperation among many stakeholders, including policymakers, clinicians, and scientists.  To this end, basic research in pharmacology can provide critical information for addressing the crisis.  In a Special Issue of Neuropharmacology, entitled "New Vistas in Opioid Pharmacology", Dr Michael Baumann from the NIDA-IRP and colleagues brought together an international panel of experts who report research findings related to three pertinent topics:
 neuropharmacology of heroin, fentanyl and its analogs;
development of safer pain medications; and
novel pharmacotherapies for substance use disorders.
View the special issue here:
https://www.sciencedirect.com/journal/neuropharmacology/special-issue/10D3G4803PS
Arwork created by Kandy Stevens. Made available under creative commons license through https://addictionandart.org/