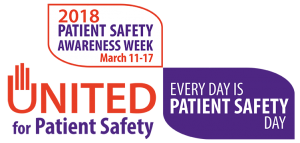 The staff of the NIDA IRP Office of the Clinical Director celebrated 2018 Patient Safety Awareness Week March 11-17 by pledging to make patient saftey a top priority and decorating the clinics with reminders of the campaign. New comment boxes were also installed throughout the clinic so patients and staff can anonymously report concerns. All year long, patients will be reminded that Everyone Should Speak Up:
Speak up if you have questions or concerns.
Pay attention to the care you get.
Educate yourself about your illness.
Ask a trusted family member or friend to be your advocate (advisor or supporter).
Know what medicines you take and why you take them.
Use a health care organization that has been carefully checked out.
Participate in all decisions about your treatment.
Below are some photos of our staff showing their commitment to patient safety!